BY JOHN M
. MAVAR and OTHER COMMUNITY ACTIVIST
I SUPPORT THE NEW PONTE VISTA
AND I WILL TELL YOU WHY!!!
BY JOHN M. MAVAR
My family has a long history in San Pedro going back three generations, and was influential in creating the city as we now know it. Bringing new people to our town is part of what makes this place so unique. San Pedro is a vibrant and diverse community because it welcomes people from far and wide, whether visiting through the Port, or coming to live and be a part of the community.

I'm proud of my family's legacy, started by my grandfather, who built apartment buildings for working San Pedrans. Generations of families have grown up in the homes my grandfather built here in town. One of the reasons I have chosen to be active in the community is because of this legacy from my grandfather, who has always believed in—and invested in—this community.
I would like to challenge my fellow San Pedrans to think about the future of our community. We can look forward to a redeveloped waterfront and a revitalized downtown. Our Port will continue to be a source of employment and economic growth. But where does housing fit into the picture?

As part of my work in the community, I used to be a member of the Northwest San Pedro Neighborhood Council, and I participated in many of the discussions about the Ponte Vista project over the years. We finally have a development team that has listened to what we have been saying all along. We wanted less density, a smaller number of units, and reasonable traffic improvements. We wanted more single-family homes, open space, and for the Ponte Vista community to feel like part of San Pedro.

With the new plan for Ponte Vista, San Pedro has a golden opportunity to write its future. The former Navy site, which has been closed off for over 15 years, will be opened up for the community to live in and enjoy. Both residents and neighbors will be able to take advantage of walking trails, playgrounds and open space. We will all be able to come in and enjoy the views. And, finally, we will have beautiful new housing for San Pedro families, seniors, and working folks.

We got what we wanted. I believe there are people in the community who may never be satisfied with any proposal, but I think we have come such a long way—from over 2,300 units to 830 units. And they heard us about including more single-family homes (208). The plan includes such a wide range of housing types and sizes that everyone from a large family with four kids, to a single guy like me, could find a home there.

So the new plan for Ponte Vista is not designed for the rich, giving them the option to lock themselves away in an exclusive R1 development. It's designed for all of us-that's why they have included housing, like townhomes and condominiums, that will be accessible to working people. It's designed for San Pedrans, many of whom, like me, work at the Port.

Kids used to play at the Navy housing, families lived there, it was part of the fabric of this town. We have a moment now where we can get that back and move forward at the sam time. Let's build Ponte Vista and bring new families to San Pedro, and make space for families that are already here but need a new home. Let's put out the welcome mat and welcome people home, just like our families were welcomed in the past.
MORE INFO ON PUBLIC THE COMMENT PROCESS AND HEARING DATE.
PUBLIC HEARING ON PONTE VISTA.:
July 30, 2013 at the Port of Los Angeles Administration Building in San Pedro. 10am
More info on the project, etc:
www.pontevista.com
http://cityplanning.lacity.org/eir/PonteVistaProj2/FEIR/FEIR%20Ponte%20Vista%20Project.html

John Mavar III, born and raised in San Pedro, is a community activist and longshoreman.
Carl Valverde Jr. enjoying time with his 5-year-old daughter Destinee before he was killed.





Violent Homicide of Yet Another Young San Pedro Man Ends Up Saving

Many Other Lives; Los Angeles Police Want His Killer and His Family and Friends Want Justice
He was the kind of kid most of us in the more affluent enclave of San Pedro don't want to know about. He did drugs. Had two children, one when he was 14, the other at 19. He moved from house to house many times because he didn't want to work or follow his mother's "tough love" rules after she made herself a better life and remarried.
He was estranged from his biological father, who is currently in jail. His mother, Angela Perez, knows the exact day she first lost her 19-year-old son, Carl Valverde Jr. He was 11-years-old. His toddler brother, Robert, 3, had pulled balloons out of Carl's pocket and began chewing on them.
When they both yelped asking what he had, Robert gasped, inhaled, and Carl watched his baby brother choke to death in front of him. He never forgave himself, his mother said. After that, she knew he was lost because she too was lost, swimming in her own grief and addictions. Carl became angry and

began to engage in drug usage. He quit going to school and was speeding downhill fast.
His whole world was defined by the moment his brother died. And the story was well known to those close to him.
Samantha and Carl's baby, Robert



But it appeared he was getting better when he fell in love, family and friends say. He had met a girl from elementary school, Samantha Milner, 18, and his life arrived at a turning point. Once the twosome celebrated the arrival of their cooing, happy hazel-colored eyed baby, not surprisingly named Robert, he vowed to change and enrolled in a recovery program. It was as though a light of responsibility finally flicked on but it would quickly be snuffed out.
Instead, the young man, nicknamed the "Beast" for his football player size, was fatally shot and killed in an unprovoked attack as the couple strolled home on Halloween night, possibly falling victim to African-American gang members. No matter what Carl has done, he didn't deserve to die, LAPD detectives said.
"Our belief is that Carl did nothing wrong," said Los Angeles Detective Greg Halka of the LAPD's Harbor Division adding that Carl had no gang ties and was a complete "innocent." Both Halka and his partner, Detective Scott Coffee called the crime despicable, possibly racial and in some ways unusual. The detectives didn't judge Carl's lifestyle. They just want to catch his killer. And so do his family and friends.
Samantha and Carl before their baby was born.
"When Sabrina called me, I was devastated," said Christopher David Young who manages a Fred Brown Recovery Home in San Pedro and is the boyfriend of Samantha's mother, Sabrina Zanvich. "Carl was trying to get on his feet. Everybody's got to have a second chance and he was trying to love and take care of his baby.
"He was a good kid and someone stripped him of his chance. It's shameful. It's cowardly."
In death, Carl would save four other lives. He would never have a chance to fix his own. He died, holding Samantha's hand, on a cold Los Angeles street the night America celebrates its ghost and ghouls. He also joined the ranks of numerous other killings of mainly young men in the Harbor Area and across Los Angeles that remain unsolved. Often gang related killings have erupted in the City of the Angels, most stemming from mounting tensions between Hispanic and black gang members.
Those killings, however, began spilling over into everyday people's lives, often based on color. Carl might have been one of them. While homicide crime numbers are down, Los Angeles Mayor Antonio Villaraigosa's first admitted the racial tensions existed, but then began to back away from

the idea that his city had been rocked by hate crimes. His

former LAPD Police Chief William Bratton stood by his side.
It might have looked too bad for the city of the Angels. Bad for tourism. Bad for business. Bad that visitors might quit coming scared of getting shot.
Carl's death gained little media attention. It appears the families involved, Carl's friends and two LAPD detectives working the case are the most concerned about bringing the shooter and accomplices to justice. Other's have simply forgotten his murder. Or don't care.
Detectives said the killing has the markings of gang member activity. Gangs are thriving in Los Angeles city and county. In the city alone, 450 gangs rule the streets " with a combined membership of 45,000 individuals," according to an LAPD website. Some are 50 years old.
In the past three years alone, gangsters have committed

"16,398 verified violence gang crimes":

491 homicides, 7,047 felony assaults, 5,518 robberies and "just under 98 rapes," the LAPD

reported
.
Detectives said on Halloween night Samantha and Carl went to visit her grandmother, close to where his 5-year-old daughter Destinee lives. While he didn't financially help out, he showered Destinee with love and she adored him, lighting up the minute she saw him, friends said. Samantha didn't seem to mind visiting with Carl's daughter who he had with a 16-year-old girl when he was 14.
Destinee lives with her grandmother and her mother, Rachel DeLucas, now 22.
One of Carl's best attributes was that he loved children and they loved him back. He would have been happy to have a "football team of kids," Rachel said, adding that he was an excellent father, often visiting, babysitting and hanging out with Destinee. When he had a job briefly, he spent his money buying clothes for his daughter.
Carl with, Destinee, and his former girlfr

ien

d, Rachel

DeLucas
Now, instead of a visit, Rachel said, she was trying to figure out how to tell her
5-year-old that her dad was dead.
Fortunately that night, Carl and Samantha left baby Robert tucked at home safely with other family members and were headed home about 9:40 p.m. A couple who joined them were further ahead as they neared 13th Street and Grand Avenue. Trick-or treaters were still milling about and plenty of people were walking the streets making it a "solvable crime" detectives said, if only witnesses would come forward.
Three African American men or youths apparently dropped behind the couple. Samantha began twitching with nervousness. They seemed young to her. Maybe in their late teens, perhaps a bit older. But Carl wasn't particularly afraid. He'd been in fights before. He'd lived in these streets a long time but stayed clear of gangs.
Then the men or boys fell behind the couple and began "mad dogging"

them, giving "bad looks," Samantha said recalling what happened in detail. When one cut away, relief swarmed over her until someone shouted out: "Hey."
Carl turned, looked back at the assailants, turned again to look at Samantha when a bullet suddenly pierced the back of his head. Carl went down, but stood back up. He told Samantha he had to race home to shower the blood away. He made it about a block to Pacific Avenue and 13th before he faltered again. He grabbed Samantha's hand as blood gushed over both of them.
"I saw him fading and he wouldn't let go of my hand," Samantha recalled, lips trembling. "He said he knows he's leaving. He told me he loved me and said I made him happy. I cried all the way to the hospital. The doctor told me there was nothing they could do. He was brain dead. I was screaming."
Carl with his girlfriend Samantha when their baby Robert was born.
One thing Carl could grasp in those few moments in the black street where he was dying was that he was with one of the woman he apparently loved. Samantha held his hand until the light nearly went out, instantly crushing three families, two of them now having to raise a beautiful infant who will never know his father. A third child might be on the way. In a complication that Carl left behind, Rachel said she's seven months pregnant with his baby.
The baby's arrival date is June 2 and her name is Carlee Valverde. Samantha chooses to not believe it.
Heading to the hospital, a hysterical Samantha called her mother, Sabrina, and Carl's mother, Angela. They both arrived at the emergency room, Sabrina first, where she found her daughter coated

in blood at UCLA Medical Center in Carson. Still confused about what happened, Sabrina thought her daughter had been shot.
"She was covered in blood and screaming," Sabrina said, "saying: 'It's not me. It's Carl." Samantha and Carl were "inseparable" and living with her at the time, Sabrina said. She immediately let go of her frustrations that the couple still hadn't pulled their lives together yet. In fact, she made them go live in Utah to change their environment and become drug free. Carl wasn't the only one playing with drugs.
They came back drugless, pregnant and jobless, Sabrina said. While Carl had studied and got his certificate to be a dental assistant, he never followed through with the program. Samantha's mom had known Carl since he was eight, found him "self-willed" and "Samantha's first crush" when her daughter was in elementary school. He was a kid, she noted, who was possibly brilliant if he would only let himself be.
His mother agrees, citing that he became afraid to love anyone anymore fearing he would lose them. After his brother's death, he buried himself in excessive use of weed and alcohol. It only worsened when Angela's oldest son, Michael, got married and moved to a small town in Iowa to get away from all the gang violence. Angela, realizing this would be a good move for her 16-year-old daughter, Vanessa, who was getting into fight

s

already, asked Michael to take her too to get her out of town.
Vanessa would eventually graduate with a college degree and is now 23.
Because he was too young, his mother didn't send Carl. But his sense of loss only deepened, his mother said. He couldn't understand why his half-brother and half-sister were leaving him if they truly loved him.
Their departure capitulated the teen even further down in his dark pit. He refused to go to school and often would lay around until his friends called. He was depressed,

Angela thought. She quit her excessive drinking, cleaned herself up and turned her own life around.
But Carl's refusal to do anything, his numerous truancies and growing drug use forced his mother to put him in a "placement" group home where he would at least be in school. It provided counseling, but Carl refused to talk. All Angela's efforts had proven fruitless. After that, Carl would go from one placement home to another, getting out and starting all over again.
But for once in his life, Carl's mom said, after he met Samantha again, she could see him slowly beginning to emerge, a flicker of change was there and he began to show he was ready "to become a man."
Samantha and Carl hadn't seen each other since elementary school, but when they ran into each other again as teenagers at age 17, the sparks were instantaneous. They traveled together everywhere, worried their moms endlessly and Carl started to live at Sabrina's home.
No one could deny they loved each other.
When Angela got the phone call to come to the hospital, she was baffled. Carl had told her earlier that day that he was happy, excited and had "everything ready to go" to move into a recovery center. Now, she was getting calls to rush to the hospital about

her son.
When Angela arrived bringing Rachel, doctors told her what Samantha already knew. Carl was brain dead. This time his mother knew she lost Carl forever.
Doctors asked if she would donate Carl's organs.
"Yes," she said. "I figured if one life has to go, I thought other people deserved to live. "If Carl's organs were transplanted,

Angela also believed, she would still have a bit of him left on Earth.
Carl would live on life support for four more days until his organ's were harvested.
Carl's shooting garnered little media attention other than a few paragraphs in a local paper. He wasn't an A student. He didn't have a stellar reputation. He wasn't a popular football and basketball player like San Pedro High Laterian Tasby (L.T.) , 17, who was fatally shot at a weekend party a week before Halloween in 2007.
Tasby, an African-American who some called the 6'6'' "monster," tried to protect his friends when allegedly some Hispanic youths crashed the party, toting knives and provoking a brawl. Tasby was shot in the chest trying to save his friends.
The case was never solved.
Carl also wasn't 14-year-old Cheryl Green, an African-American girl gunned down in broad daylight when she was standing on a corner with some friends. The friends were chatting in her Harbor Gateway neigborhood on December 2006 when a Hispanic gang member shot at them, killing Cheryl and injuring several of her friends.
It was blatant "hate" crime. African Americans living in the neighborhood revealed that Hispanic gangs harassed, beat them and showed clear boundaries of where African Americans were allowed to move in their own neighborhood. Several Hispanic gang members were later arrested in Cheryl's death and sentenced to life in prison.
A new recreation center run by the Boys and Girls was opened in 2009 as a safe haven for kids in Harbor City, Harbor Gateway and Torrance. It was named after Cheryl.
Unlike Carl's case, the media descended upon L.T.'s story because of his transformation at the Boys and Girls Club from near gang member to a star athlete, playing both football and basketball at San Pedro High School. Students who witnessed his stunning changes said he inspired them, but not one teenager at the party would step forward as witnesses to snag the assailants.
They were terrified, not just for themselves but for their families. Those killers were left to roam the streets.
Cheryl's case drew a much bigger media frenzy and went nationally because her death was considered a hate crime bringing in the FBI, Villaraigosa, then LAPD Police Chief William Bratton, then Los Angeles Councilwoman Janice Hahn and hordes of

cameras and media crews. At that time, Villaraigosa and Bratton admitted there were racial tensions brewing in the city between Hispanic and African Americans gangs . But gang members weren't just killing each other anymore.
Their violence was spilling over the lives' of everyday people. People like Carl.
Carl had no city officials swoop in after his death. His death wasn't considered a "hate" crime, although his loved ones wonder why. His story wasn't sexy enough.

He was just another kid shot and killed in what many San Pedro residents consider a poor, crime riddled neighborhood. From some assessments, San Pedro is "a Tale of Two Cities," a local principal said one day.
There appeared to be an invisible, long-harbored demarcation line with the impoverished, petty criminals and gangs living east of Gaffey Street even though many professionals have moved in over recent years. The thoroughfare conveniently slices San Pedro in two-divides.
Middle and upper middle class residents tended to live to the west of the major boulevard, often warning friends to stay far away from the area in an industrial community that started out on the backs of fisherman and now boasts the Port of Los Angeles, the largest in the world.
The area also has a sprawling and embedded housing facilities called Rancho San Pedro. It is blamed consistently for all of San Pedro's woes.
As the mothers sat at the hospital together they both agreed too many kids and young adults, were dying from violence in Harbor Area streets where they both live.
Los Angeles police detectives assigned to the case weren't judgmental of Carl's life style and could see in the years ahead he might of transformed. While Carl had no gangs ties, he was cordial to gang members, they explained, like so many other youths living in gang-ridden neighborhoods who want to survive.
But the detectives are frustrated too as only rumors have poured in, nothing concrete with any evidence. They can't convict anyone without evidence and are waiting for that single lead, no matter how small that could help them make a case.
The suspected killers, who allegedly might have been members of the Dodge City Crips, were believed to be between the ages of 16 to 22 and around 5' 6" and 5' 10'' tall. After the shooting, they slipped away in the darkness of the night and vanished.
Hakka and Coffee find a few oddities with the case. One was that no discussion happened between the victim and the suspects. Usually, some conversation happens even if it's short, such as a gang member asking a victim what neighborhood they're from.
"This is not typical," said LAPD Detective Scott Coffee. "It was a pretty random thing. We don't have a lot of walk up shootings. It is consistently gang like and it

happened really quick."
The detectives are asking the public "to do the right thing" if they witnessed anything, overheard any "bragging" conversations pertaining to the case or have knowledge in any other facet that would bring justice to Carl and his family.
Anonymous options are available through Crime Stoppers, they said, a non-profit organization not run by police that makes it easy for witnesses to call in anonymously at 1-800-222-TIPS (8477).

The detectives can also be reached:
Halka at 310-726-7886 and Coffee at 310-726-7880.
The officers working to solve the case the are asking the families for "patience."
While family and friends noticed Carl was transforming, including Rachel, she

believes the possible overhaul of his life might not have been about "the two women he loved," but for his children.
Her daughter, Destinee, cried when Rachel told her her father was dead and continues to ask for him. While some of those involved want Rachel to take a paternity test when her new baby is born, she said she doesn't need too. She knows exactly who the father is.
Carl really never stood a chance, those that loved him said. It seemed he might have suffered from depression after his brother died. Sabrina, Samantha's mom, said she argued with him all the time and was furious when her daughter became pregnant.
All involved agree, including Samantha, that Carl's son Robert will be cared for by other

family members and that she needs to return to school to find a career.
Now as Sabrina holds a giddy, gurgling Robert in her arms with interested family members surrounding them, she knows that the 4-month old infant will have a much greater future than his father. There are so many who love him. And in the end, she is happy that she has a grandson and now believes Carl did didn't have much of a chance given his circumstances.
"As much as we would fight with Carl, I wanted more for my grandson," Sabrina said as she clenched his gurgling baby in her arms. "But in the end (Carl) wanted more out of life too."
A shrine remains for Carl at Grand Avenue and 13th streets, littered with signs posted by friends that they love and miss "the Beast."
Much of the words left for him flap in the wind.
Four lives were saved using Carl's organs. One Legacy, the organization
that

handle his case, outlined where the donations went in a letter written to his mother. Four out of five of the transplants were successful. Here are the people he saved and the one where the transplant failed:
--Carl's left kidney and pancreas were donated to a man living in California, in his 30s, married and working for a school district. It is the first time the man has been able to be off dialysis in three years.
--A teenage boy, also in California, who likes to play soccer and basketball, received Carl's kidney. The successful transplant allowed him to terminate
dialysis after being on it for

two years.
--Carl's liver was transplanted in a woman in her 60s."While everyone involved expected a positive outcome, the liver did not function once transplanted," the letter stated. "This woman is hopeful

that another family will say yes to donation as you so generously did."
--A man in his 20s, a tutor and resident of California, received Carl's lungs and
has been doing well, the letter said.
--The father of two children in his 50s who lives in Rhode Island received Carl's heart. He is a doctor now enjoying taking care of his children and "his heart is recovering well."
Written by Janet Gunter & Dr. Fred Millar
VOICES
- New Jersey Congressman Florio famously said, "From the right to know will flow the right to demand, and get, tougher laws and safer practices."
As his quote indicates, our two major national Right to Know laws enacted in the post-Bhopal toxic gas disaster period, 1986-1990, aimed to empower citizens with the ultrahazardous chemical release risk information that can inform citizens of their exposure to potential fire, explosion or toxic gas cloud risks.
Congress hoped the newly informed citizens and media would then create the necessary pressure to reduce major chemical disaster risks.
Retired US Coast Guardsman Stephen Flynn reminded: "Like the coastlines of the Middle East, the US waterfront is littered with attractive targets. Refineries, power plants and chemical factories are ready-made weapons of mass destruction, located in some of the most densely populated areas… The waterside is too often an open flank." Flynn message suggests why we feel a significant and re-energized sense of urgency for risk reductions in our San Pedro Bay port communities.
Los Angeles Harbor area residents have been concerned for many years about the chemical release risks in their community, particularly those posed by the giant LPG storage tanks (specifically, butane and propane), which Plains All American Pipeline now operates under the name Rancho LPG LLC.
The facility's huge tanks loom over homes, schools and businesses, with enormous storage volumes on site of butane and propane which railcars and trucks transport through neighborhoods and the Port of LA., bringing the disaster risks within a few feet of thousands of homes and businesses.
And now the City is willing to put even more thousands of unsuspecting citizens at risk without notice. The very latest demonstration of political recklessness relating to public safety is LA City's compliance in a plan to develop the Ponte Vista housing project which will bring an additional 800-1,000 homes within ¾ of a mile of Rancho LPG.
According to the EPA's own calculation method, Rancho LPG has a potential blast radius from a single tank of 3 miles. While the probability of a high consequence accidental release disaster is low, a well-planned terrorist attack on a storage tank or on a string of railcars could provide the terrorists their desired sensational media event.
The post-9/11 terrorism context in which two US wars and other military interventions has made the US a major focus of the ire of radical Jihadists worldwide. We badly need a thorough re-evaluation of locations and operations of major chemical storage tanks and the movement of hazardous cargoes in our densely populated local area, in perhaps the most important energy port in the US if not the world (thus a valuable target).
The latest Algiers natural gas plant takeover highlights the premiere opportunity that energy facilities offer in the way of terrorism. In particular, informed LA Harbor Area residents are deeply worried about the accidental release and terrorism risks posed by the Rancho Liquid Petroleum Gas storage facility currently operating adjacent to the inner harbor of the Port of LA.
Any notion that a public discussion of chemical accident or terrorism vulnerabilities in San Pedro Bay ports will be "teaching potential terrorists what to attack" is phony.
The basic information on the major chemical release vulnerabilities are clear enough to any informed observer or internet user, and even suggested by the NFPA hazard diamonds clearly visible on all the tanks.
[We could agree to refrain from public discussion of a very few operational details, as the US Coast Guard and the US Chemical Safety and Hazard Investigation Board did in the recent accidental toxic gas release case involving the Bayer Crop Science Methyl Isocyanate storage tanks in Charleston WV.] Absent a vigorous public discussion, it is only the public that is being largely kept in the dark.
Over the past several years, residents of the Harbor area have meticulously analyzed any and all public information made available through the Community Right to Know and the Freedom of Information Acts on Rancho's 40 year old facility. The stunning risk information highlights the failed oversight by government at all levels to properly safeguard citizens from the extraordinary risk exposure of Rancho LPG.
Initiated in 1972-73 without benefit of any risk analysis, the LPG facility (Petrolane) located in the Harbor for the extremely profitable venture of shipping by sea. A single ship can transport 7 million gallons of this hazardous commodity as compared to far lower truck and rail car capacities varying between 9,000 and 30,000 gallons per carload.
LA Harbor Commissioner Cho was a shareholder in the company at the time this facility was installed. The facility was expedited through the permitting process allowing the tanks to be located in the actual rupture zone of the Palos Verdes Fault (mag. 7.3) on LA City acknowledged "liquefaction and landslide areas", and in a "methane zone".
In 2004, the Port of LA refused to renew the LPG Company's lease on the shipping wharf servicing the facility since their underground pipeline for the gas transfer from the LPG facility would have eliminated the port's ability to expand the China Shipping terminal. The existence of the pipeline was determined to pose
too much of a hazard to the new terminal operations
. Yet the storage facility's cargoes still fan out through the metropolitan area daily.
The LA City Council has long publicly acknowledged the extraordinary risks that the facility and hazardous transportation pose to existing residents. In 2005 and again in 2007, the LA City Council introduced motions urging that the LPG storage tanks be "relocated".
Even the new Canadian owners of the Rancho facility in their first public meeting with concerned citizens in 2008, publicly admitted that the helter-skelter siting of the major chemical facilities throughout the LA metropolitan area provided unnecessary disaster risks to the population, and that a sensible site for their own storage facility would be located outside a densely-populated area.
More Americans these days seem to favor protective, vigorous and technically informed government at all levels which bolsters productivity and employment while deploying informed oversight and eliminating unnecessary serious risks. A weak government and an uninformed public provide a recipe for possible disaster.
There is a profound phrase in the movie "Zero Dark Thirty" when the CIA is considering the uncertainty and risk involved in a Bin Laden raid. "How do you estimate the
risk
of doing nothing." Certainly, in the case of Rancho LPG…..we have been doing "nothing" for too long.
(Dr. Fred Millar is a consultant on prevention of chemical accidents and terrorism risks, based in the Washington DC area. He initiated the second of the National Right to Know laws in 1990 and assists citizens and public officials to assess and prevent chemical risks.
Janet Gunter is a community activists and member of the San Pedro Peninsula Homeowners United Inc. The SPPHU was one of the litigants in the successful China Shipping lawsuit that was represented by the NRDC in 2001-2003 on the issue of air pollution and aesthetics. Get more info: hazardsbegone.com)
-cw
CityWatch
Vol 11 Issue 12
Pub: Feb 8, 2013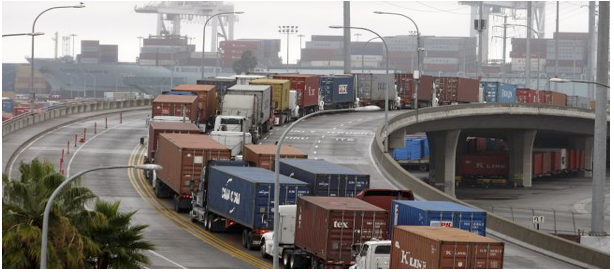 GUEST WORDS - Last month, union activists across the country celebrated what they saw as the latest opportunity to kickstart the moribund labor movement: a strike at Wal-Mart on Black Friday. Retail workers, or as Wal-Mart calls them, "associates," across the country were to walk out on the greatest shopping day of the year.
The walkout was to signal the national unity of retail workers and strike a blow that would stagger the giant from Bentonville. At the same time, it would galvanize liberal consumers who would support the walk-out by their refusal to shop. Bringing together consumers and workers, they believed, would force America's largest retailer to the negotiating table.
It failed.
Walkouts were erratic. Shoppers, most of whom were hard-pressed workers themselves, thought more about the presents under the tree than the picket lines, if there were any. It turns out, as one might expect, that coordinating a walkout at thousands of locations across the country was hard, even in this age of social media.
Yet, at the same time, another strike was going on that received far less attention -- though it still threatened Wal-Mart's ability to deliver all those cheap Chinese-manufactured goods through the country. This strike did not have the visceral satisfaction of picketing Wal-Mart, whether as an underpaid worker or as a politically-conscious consumer. But this strike was more important than the Black Friday strike, not only because it was successful, but because it augured a new realization of the sources of union strength in our economy.
The planners of the Wal-Mart strike saw retail stores as the new factories. We live in a service economy, after all, and customer service representatives are the new proletariat. In this line of thinking, we need to organize retail workers and then, through solidarity, we will be able to bring back the union strength that made possible the postwar prosperity.
This argument, which feels so right, is fatally flawed. Wal-Mart stores are not GM factories.
Retail chains sprawl across the country. When a union tries to organize a store, that particular location can simply close up shop, move somewhere else, and hire new staff. The inventories can be easily moved. Retail is essentially flexible and its work deskilled. Workers and shops can be replaced.
The cost of unionization would be higher than the cost of an additional store (which are opening every day somewhere else).
The success of the factory labor movement in the 20th century required both of those factors to be the opposite of what we have in retail: workers, inventory, location, and plant are inflexible.
It also must be remembered that the powerful postwar labor movement, which brought us things like pensions and weekends, came about not in the midst of prosperity but in the middle of the Great Depression -- fighting the most powerful corporation in America, General Motors -- exactly when we would think it would be most impossible to organize.
Consider what many labor historians consider to be the kickoff for the last great labor movement in the 20th century: the Flint Sitdown Strike of 1936 which made the United Auto Workers into a juggernaut.
The Flint Sitdown Strike of 1936 is remembered for its control of a factory and giving birth to the UAW. Labor advocates celebrate the solidarity of the workers who occupied an auto body plant in the middle of a Michigan winter, facing down water hoses, rifles and tear gas. Yet these labor proponents have remembered the wrong lesson of that strike. The solidarity, while necessary, was not sufficient to win the strike. What mattered was where the strike occurred.
What is forgotten is that the workers chose that factory, among GM's hundreds, because it made auto bodies which could be made nowhere else. The dies that stamped metal into cars only there and could not be replaced. When the UAW shut down that one factory, all of GM stopped. All of its suppliers stopped. The largest corporation in America was brought to its knees.
Today labor remembers the strike but not the strategy. It celebrates the Wal-Mart strike because Wal-Mart is powerful like GM, but it draws the wrong lessons from history. Activists think they can organize every Wal-Mart in America.
Such a strike would link their consumerist disdain with their romantic half-understood memories of factory strikes. But to organize those tens of thousands of stores one by one is not possible. We have tried for a generation and failed. Equally impossible would be organizing the thousands of Chinese factories that supply those stores. But between the factories and the stores there is an opportunity.
What would the Flint Sitdown Strike look like today?
To call our economy a service economy is a misnomer. We actually live in an economy based on distribution. The "service" economy is a category left over from the age of manufacturing, when there was manufacturing, agriculture and "other." Today we understand that there is a difference between distribution (which is transforming our economy) and professionals (who are not). The movement of goods and the movement of information is where innovation is happening today. In a distribution economy, workers need to control the chokepoints in the supply chain that have become the Auto Body Plants of today.
The ports are the new factories.
Last month, beginning on November 27 in Los Angeles the longshoremen shut down the Long Beach and LA container ports. This strike got little national coverage because it was ostensibly about 600 workers at a container site. There is understandably attention in discussing boring ports rather than evil Wal-Marts. But this strike actually shut down the movement of all those goods to all those Wal-Mart stores. This strike, and the alliance between clerical workers and longshoremen, actually shows how to replicate the success of 1936, and by extension, the entire postwar labor movement.
Ports cannot be moved or replaced. The skilled workers who operate the specialized computers cannot be easily replaced. Without the container ports, the entire supply chain, not only for Wal-Mart but for the economy, grinds to a halt.
The longshoremen on the East Coast have noticed the success of the West and are now threatening a strike of 14 ports. Without those ports, Wal-Mart and the rest of the retail economy will be brought to its knees. As we saw, two ports in Los Angeles can be organized, and it can bring the entire supply chain can be stopped. A small group of committed people can have a disproportionate effect.
Practical unionists and activists will remember that the success of the labor movement came from controlling strategic points in the supply chain that could not be replaced. In 1936 it was an auto body factory in Flint, MI. Today it is the container ports.
The question for the labor movement is how to leverage the strength of the longshoremen into benefits not only for unionists but for workers across America. The UAW used its success to support a broad redistribution of income in the economy, helping to bring us the balanced growth of the postwar years.
When the labor movement acknowledges the lessons of the past and the realities of the present, unions will once again be able to empower American workers, even in the midst of the Great Recession.
(Louis Hyman attended Columbia University, where he received a BA in History and Mathematics. A former Fulbright scholar, he received his PhD in American history in 2007 from Harvard University. He is currently an assistant professor in Cornell University's School of Industrial and Labor Relations, where he teaches history. This analysis was posted first at huffingtonpost.com)
-cw
CityWatch
Vol 11 Issue 3
Pub: Jan 8, 2013
UPDATE: PECK PARK'S planned SKATE PARK
went out for bid after a long but necessary workshops/meetings this past year. Skaters, City of LA Rec and Parks staff, Northwest SP Neighborhood Council spent time making sure this project meets skaters preferences along with the demand for an additional skate area.
We will hear more about the selected contractor after the new year. But the good news is that San Pedro will have another skate park.
Thank you to the Channel Street Skate park guys/San Pedro Skateboard Association, Northwest SP Neighborhood Council and Rec and Parks for working together.
I have championing this skate park development at Peck Park for 10 years with city officials not willing to allow it to budget shortfalls. BUT now with everyone working together and fully funded, I will make sure this skate park is built.
More news to come after the new year.
JOHN MAVAR


08.23.2012
Diana L. Chapman
MY TURN - He did some of the smallest things imaginable.
He returned phone calls.
He set up water polo and basketball games between his officers and community kids. Sometimes he even played in them. As the captain of the Los Angeles Police Department's 77th Division, he closed down an entire street Halloween night so parents and children could trick-or-treat safely in the neighborhood saturated with crime. His officers policed the event.
Most of all, LAPD Deputy Chief Pat Gannon, who retires from the department Aug. 31, listened to people like you and me.
"He was a saint," said Neal Kleiner, who met Gannon when he was principal at one of the toughest middle schools -- John Muir -- in the 77th Division. Having called Gannon's predecessor and never getting a response, Kleiner was astonished when Gannon, then the new captain, called him without provocation.
"He initiated a call to me and visited Muir," Kleiner said still with amazement. "He let me know that his men were there to service the community and if I needed help to call. He was a frequent visitor to the school and met with the staff and parents and he demonstrated a genuine concern for my school and the community."
Said Mike Lansing, the Harbor Area Boys and Girls Club executive director: "Pat always supported the Boys and Club and the work we do. He advocated for kids through his police work and had officers interact with our members -- including playing basketball. Sometimes, Pat even played himself. He is one of the great leaders who actually wanted to know what we did -- he took the time to listen and engage our members."
Gannon, 56, retires not because he wants to, but because he signed on to an economically savvy retirement package the LAPD offered years ago which he now regrets.
"I could have stayed forever," said Gannon, who plans to look for other police work. "I'm going to continue working. It was interesting to me. I worked cases. I solved them and I enjoyed that."
A powerful advocate of building strong police relations with the communities it serves, Gannon considers it a necessary tool to repair old wounds, prevent crime and show that officers do care. He demonstrated that repeatedly throughout the course of his work when he became captain of both Harbor Division in 2003 and then shifted in 2005 to the 77th division before being promoted to deputy chief for Operations-South Bureau.
Gannon, who grew up in San Pedro, comes from a third generation LAPD family with his son, Michael, now on the force. Gannon held posts from officer, to detective, to child abuse investigator -- and all facets of the operations until he rose to deputy chief, one of the most high-ranking posts on the force.
His attitude about policing practices changed dramatically after the 1992 riots where four white LAPD officers were acquitted in the beating of African-American Rodney King, caught on video.
The verdict sparked explosions of violence which rippled across parts of South Los Angeles and left Gannon in shock. Weren't police doing what the community wanted: tearing down drug houses, putting bad guys in jail, catching murderers?
"It was a breakdown in everything I believed in," he said. "I never in my wildest dreams thought people would turn on us. I was crushed. It was a defining moment. "
Since that time, Gannon said it was clear the department needed to adopt a new philosophy. He found himself more attuned to those on the force who embraced the concept of working closely with its residents.
Of course, it wasn't always like that. Gannon was a tough, no-nonsense cop having grown up on Dragnet's stern "just the facts maam." He followed the trail of his grandfather, an LAPD detective and his father, an LAPD officer and a belief that arresting the bad guys was what the community needed and wanted.
"I have loved the LAPD from the moment I joined the department," Gannon said."When I started as a police officer I was 22-years-old. I didn't know what to expect. My father who was a retired police officer by then gave me advice, but he did not tell a lot of war stories. As a result, I went into the job with a lot of enthusiasm, but no idea of what I was getting into.
"It was different in those days," Gannon added. "My training officers were all Vietnam War veterans. They worked hard, smoked like chimneys and rarely thought anyone outside of law enforcement had a clue of how to reduce crime."
They were also officers dealing with the new phenomena of crack cocaine and PCP, which could turn its users into wild, but incredibly powerful and deadly suspects "and thousands became addicted to those drugs over night," he said.
Initially, it was "us versus them."
After the riots, Gannon realized that became a must-scrub attitude. He dedicated himself to community policing and partnered with residents of the area to lessen tensions and garner their trust -- a model he wanted his officers to follow.
When he captained the 77th Division, for example, a man named Edgar Hernandez dropped in to see him. Hernandez was determined to get his boys safely off to college despite the lure of bad elements in his neighborhood.
What Hernandez wanted was for Gannon to reach out to the fearful Spanish speaking community-- residents who came from El Salvador, Guatemala and Honduras -- to teach them they didn't have to fear the police. Through their work together, they established Friday night meetings where community members received a "mini-civic "lesson and were trained in case of catastrophic events, such as basic first aid and turning power off. Gannon attended many.
The Friday night meetings, now having grown to about 70 residents, continue to this day and Gannon likes to point out with that Hernandez's eldest son is an engineering graduate from MIT and his other son is attending California State University, Northridge.
"He was such a dynamo," Gannon said of Hernandez. "He's still out there organizing community members. His ideas were just great."
I too was graced with Gannon's community spirit. Like principal Kleiner, I had contacted Gannon's predecessor, the Harbor Division Captain, to see if officers could come play water polo against the kids at Peck Park Pool in San Pedro.
That captain said no -- despite the picture I painted. Then, it was a pool filled with kids who didn't blink when gang members arrived, but were petrified when police showed up. They raced out of the pool, some crying and asking if they would be arrested.
When I met Gannon at a press conference right after he became Harbor Division captain, I started to introduce myself, saying I was an advocate for the kids at the pool. Before I asked for anything, he said: "You know what I'd really like is to have my officers come play water polo with the kids."
I was shocked and gratefully accepted. There were several games between Peck youths and officers over the years Gannon served -- and the kids enjoyed it, especially when they won.
"Pat Gannon exemplifies the core LAPD value of integrity," said Los Angeles Councilman Joe Buscaino, who Gannon recruited to the LAPD and mentored for years before he ran for office. "He has had a successful and rewarding career because of his strong ties to the community. The community-based policing is in Pat Gannon's DNA and he has been successful because of it."
It's a DNA our community is going to miss.

(Diana Chapman is a CityWatch contributor and has been a writer/journalist for nearly thirty years. She has written for magazines, newspapers and the best-seller series, Chicken Soup for the Soul. You can reach her at: hartchap@cox.net or her website: theunderdogforkids.blogspot.com)
–cw
The passing of
Ray Patricio. San Pedro's dedicated and passionate leader served the community till his death.
I had the privilege to work with Ray on many community issues. One major passion's of Ray's was to improve the Peck Park Canyon and its trails. This will be a lasting legacy of a man that got things done. He coached my dad as a kid and I was fortunate to meet Ray 10 years ago. I learned SP history and it's historical times. In the process, we became a good friends.
Ray you will be missed.
JOHN MAVAR
FROM THE DAILY BREEZE; (Life history and memorial arrangements info)
San Pedro activist who fought for preserving Peck Park Canyon dies
Posted: 08/03/2012 07:33:23 PM PDT
Updated: 08/03/2012 07:57:57 PM PDT
Dubbed a "longshoreman philosopher" by one of his daughters, Ray Patricio loved kids and animals, and long championed the cause of preserving San Pedro's Peck Park Canyon.
Patricio died Monday, a month after his 89th birthday, while sitting on the porch of his home on the canyon's rim.
"He was the salt of the earth," said his daughter Frances Thurston. "You always knew what he thought. He had no hidden agenda."
A big man who could bring the house down with his sometimes cutting comments at public meetings, Patricio spent his childhood wandering the wilderness ravines of northwest San Pedro.
In his later years, the canyon would become Patricio's passion as he fought city hall to bring in herds of goats for grazing and pushed for trail improvements.
The goat program was ended over Patricio's protests, earning him the nickname of San Pedro's "Goat Man."
But last year, Patricio presided over the opening of a $4.8 million hiking-trails upgrade that grew out of a proposal he'd been pushing through petition signatures since 1999 after the canyon had fallen into disrepair and was even considered dangerous.
"To hell with computers, come down to nature," Patricio said at the May 7, 2011, opening attended by city officials.
Thanks to Patricio's vision and determination, the canyon now offers residents and their children three miles of cultivated hiking trails, foot bridges, benches and educational signs.
Born July 1, 1923, in Sausalito, Patricio was 6 years old when his family moved south to San Pedro.
He grew up playing in the chaparral-covered canyons, then teeming with wildlife and even cattle from the nearby dairies.
Patricio attended Barton Hill Elementary School, Dana Junior High and San Pedro High School. He fought in the Pacific front as part of the 389th AAA Battalion in World War II, receiving numerous medals, including the Soldier's Medal for saving the life of a fellow soldier.
When he returned to San Pedro, Patricio met and married Lola Christina Thomas in 1947 and raised six children during their 53-year marriage. She died in 2000.
He began working as a longshoreman in 1948, retiring in 1988, and he also coached at Holy Trinity School for 28 years.
"He mentored countless kids at Holy Trinity," Thurston said. "He worked as a longshoreman at night and coached at Holy Trinity during the day. We used to wonder how he got so much done."
Patricio also knew San Pedro history like few others.
"People would call him up to settle arguments" about the town's past, Thurston said.
In recent years, Patricio was active with the Northwest San Pedro Neighborhood Council and the Peck Park Advisory Board.
When Patricio rose to speak during some of the community's public meetings, everyone listened. His remarks were often met with laughter.
At a January 2007 meeting that rolled out a much scaled-back - and almost universally unpopular - version of the port's waterfront plans, Patricio had this to say: "Some people have dreams, but it looks like someone had a nightmare here."
"He wouldn't hold back," Thurston said. "He would say what he thought. I'd try to clue him in on politically correct speech, but I gave up. He could get away with things because everyone knew he had a good heart."
In his spare time since retiring, he loved to shoot the breeze with friends at Canetti's Seafood Grotto before it closed and, most recently, at the Sacred Grounds coffee house in downtown San Pedro.
A "macho man," Patricio was "a sweetheart of a father," Thurston said, the kind of guy who easily got away with calling waitresses "honey."
His primary motivation, she said, was in making life better for children and making sure a piece of San Pedro's rural past survived for future generations.
"He's always loved animals and he'd tell me that children in San Pedro don't have the opportunity to be involved in nature," said Thurston, who came from Santa Cruz to help care for her father at home in his last year of life.
He'd hoped to someday see a resident herd of goats grazing in the canyon - and perhaps a petting zoo, as well.
Patricio shattered his femur in a fall last October and had been confined to a wheelchair since then, she said.
But he was able to return to his home, shaded by eucalyptus trees where visitors were hard-pressed to remember they were still in the city of Los Angeles.
The day before he died, Patricio enjoyed the scenery one last time from where he sat out on the porch, his daughter said. The area now is frequently visited by schoolchildren on class field trips.
"It was nice for him to sit on the porch and see people using the trails," Thurston said. "A lot of people use it now."
He will be buried at Green Hills Memorial Park, where Patricio once tended dairy cattle herds as a youngster.
In addition to Thurston, Patricio is survived by a sister, Lucille Davis; two sons, James and Paul; daughters Catherine Patricio and Raeann Patricio; four grandchildren, and two great-granddaughters.
Services are 1 p.m. Monday at Green Hills Memorial Chapel, 27501 S. Western Ave., Rancho Palos Verdes. Donations in Patricio's memory can be made to the Southern California ILWU Pensioners Fund, 231 W. "C" St., Wilmington, CA 90744.
donna.littlejohn@dailybreeze.com
A new representative for the Los Angeles City Council 15th District will be elected on January 17, 2012. As constituents, we will expect our new Councilperson to be assessable, listen to our concerns, and take action to resolve issues. Most importantly, he'll need to "hit the ground running". In my opinion, Joe Buscaino is the best candidate for the job.
Joe Buscaino is committed with his heart and soul and has the vision and focus to work on the important issues facing our district. Joe has lived in the community his whole life, is an LAPD Officer, has participated in numerous community events and has been in involved with many non-profit organizations. Joe Buscaino the quintessential "local boy makes good"!
I grew up with Joe. It was easy to recognize his natural leadership skills and his ability to mentor and empower kids. He's always been respectful and kind to everyone and I admire his honesty and integrity. The Buscaino Family provided an old-school, rock solid foundation for Joe and it shows in everything he does.
This is not an easy job to take on. The City of Los Angeles is facing a $400 million budget shortfall. Plus, our demands on "quality of life" issues along with making sure we are not the forgotten stepchild of the City of Los Angeles. Joe Buscaino knows firsthand about our city budget and how it affect all areas of the city. As a LAPD senior lead officer, Joe understands the importance of communication, therefore there's no doubt in mind that he will be there to listen and take action.
Joe Buscaino is practical and above all, an honest individual who knows skillfully how to navigate the process of city government. He is the obvious and best choice for this seat on the Los Angeles City Council. I support him whole heartedly and will strive to insure his election this January. Join Me!
JOHN M. MAVAR
Vice President, Northwest San Pedro Neighborhood Council
ILWU 13 Member
Below is an article from Random Lengths news on one of Ray's passions.
Peck Park - the Last of San Pedro's Canyons

Breathing Life Into Peck Park Canyon

By Terelle Jerricks, Editor
Like a valuable family jewel re-discovered after being hidden away for ages, everybody seems to know just what to do with Peck Park. Some want it developed for use as a cross-country practice site, others for camping grounds or a site for rock climbing. Perhaps one of the ideas being pushed most vigorously is the creation of a preserve populated by goats.

On July 6, the City Council voted to set aside $80,000 for studies on what to do with the 31 acres of undeveloped Peck Park land ($10,000 of which came from The Northwest San Pedro Neighborhood Council). The Los Angeles Neighborhood Improvement project manager, Shannon Jaax, led a hike through Peck Park Canyon a few weeks ago, pointing out dumping sites, litter, erosion, brush fire, and security issues for the 15-member steering committee, members of the NWSP- Neighborhood Council, and Mia Lehrer and Associates, the City-hired landscape architecture firm conducting the study.

Hiking along the least-traveled trails, the group spotted rusted shopping carts being reclaimed by dense thickets of brush. Neighboring backyard fences surround much of the park's perimeter, and along occasional stretches, the perimeter is dotted with cement posts that once held up wire fences. Dump sites were also visible from the trail, revealing the tracks left behind by trucks relieving their beds full of junk from people's yards and garages. At points, the ground gave way to steep cliff sides with the canyon bottom covered with vines and brush thick enough to hide car wrecks and bodies.

Peck Park Canyon was once known as the Mira Flores Canyon of Peck Park—home to a dairy farm and a horse ranch under the administration of two successive families, headed by Mary Ruggero and later Albert Hernandez. For years, Ruggero operated Liberty Dairy Farm, while also boarding and training horses, often allowing neighborhood kids to ride and graze the steeds in the lush terrain. Before Ruggero passed away, she passed the reigns of the ranch to Hernandez, who continued the ranch's traditions for over 30 years.

In 1999, the Department of Recreation and Parks tried to evict Hernandez, citing liability concerns. San Pedran residents rose to his defense, forcing then-Councilman Rudy Svorinich to intervene. Ultimately, Hernandez was allowed to continue operating the ranch on a one-dollar-per-year lease until he passed away. (See "Last Rancho in 'Pedro," RLN, April 2-15, 1999.)

Ray Patricio, member of the Northwest San Pedro Neighborhood Council (NWSPNC) Steering Committee, has been lobbying for some time for the park to become a game preserve (populated by goats) with a multipurpose complex. It's a vision seemingly inspired by this period, when brush was kept tamed, the soil aerated and fertilized, and most importantly—because the land was occupied by a fulltime tenant—relatively free of dumped debris.

"There is enough pressure now to get the project going," Patricio said. "They got the money, they have people on the payroll to make it happen."

Patricio proposes the fencing off of the entire park, leaving only one main access route so as to prevent middle-of-the-night dumping and transients staking out territory in wooded areas with attack dogs and shopping carts.

"A lot of people don't want fences, but there are already fences, particularly when you look at the old north entrance that is now blocked in by the Park Western homes and school. On the south side of the park, where I live, there is no fence and yet that's where all of the trash is.

"The beauty of having a fence is it stops the trash from coming in and the animals eat the grass," Patricio said. Essentially the park becomes a self-sustaining and maintaining environment.

Others suggest adding another access route for hikers who get trapped in parts of the canyon with challenging terrain and adding restroom facilities for camping grounds. However, those proposals could present problems in fresh water delivery and sewage disposal. There are already parts of the canyon being eroded by inappropriately placed drainage pipes. The lack of fencing around some of these areas could lead to tragic consequences for residents.
NWSPNC has been working on developing Peck Park Canyon for the last five years, raising community awareness and lobbying City Council. When asked about potential obstacles the project faces, Jaax said "a lot of people from the community must stay involved and committed to keep the momentum going forward." Community residents have pushed the project this far, it's not likely they'll rest till the project is finished.
To Read the entire Story, please pick up a FREE copy of Random Lengths
500 Lucky Students Will Attend New San Pedro Annex
02.27.2012
Diana L. Chapman
MY TURN - Coming this August, 500 students will unload from buses that come off Gaffey Street to attend a controversial, but ecologically modernized campus – promising soon to become one of Los Angeles Unified School District's brightest stars.
Surrounded by educational facilities – such as the Marine Mammal Care Center – the new $80 million campus opens its doors Aug. 14 and will welcome students from San Pedro High's Marine and Police Academy magnets. A lottery will be held for an additional 50 seats for San Pedro high school residents at the facility, now called the John M. and Muriel Olguin Campus. They too will be enrolled in one of the smaller learning communities.The campus, perched atop a bluff overlooking the Pacific, will also fall under the jurisdiction of San Pedro High and its principal, Jeanette Stevens.
On a recent tour, LAUSD School Board Member Richard Vladovic, who oversees the Harbor Area, was delighted by the school which sits on 28 acres of land on the Upper Reservation of Fort MacArthur.
"I am impressed," said Vladovic, whose staff dealt with irritated neighbors who contended the school would cause severe traffic clogging and change the area's serenity. "This school will facilitate teaching and capture children's imaginations.
"This will be a classic and San Pedro High will be a classic campus too."
Stevens, who attended the same tour, said she's mesmerized by the new high school that was intended to reduce the overcrowded student population at the main school.
"It's amazing. It's fabulous," said a pleased principal Stevens. "It's a prize for San Pedro. It's going to elevate our enthusiasm for San Pedro High School. We are going to be rejuvenated by this.
"Our neighbor's will be proud of their backyard."
There is much to be proud of. The campus includes eight new buildings and is graced with 30 new classrooms, a competitive swimming pool, a sparkling, fresh gym, with room for 882 visitors to sit on bleachers, an amphitheater with 780 seats, five outdoor basketball courts, one soccer field, a library and a performing arts-multipurpose room.
Three of the building's rooftops are covered with solar panels to provide energy for the entire school. The floors were constructed from recyclable materials and all the school's landscape will be drought resistant, said Rick Shirley, the project manager who has helped build nine other LAUSD schools.
"There's always construction wrinkles to work through," Shirley said, adding that the neighbors have made few complaints during construction. "This project has gone pretty well."
In addition, the campus will be graced with low maintenance, low water landscape with over 200 trees, including 98 coastal oaks, 25 sycamores, 15 Catalina ironwoods and 12 Torrey pines. Shrubs such as Manzanita, dwarf coyote brush and coastal sage will also spruce up the school, Shirley explained.
Neighbors of the campus who were particularly concerned about the school were able to win scores of concessions from the district, including that there should be no night-lighting outside for sports or any access to students off of Alma Street. Still, there are many happy administrators who will be running programs at the Olguin facility.
"I am so excited for the opportunities that will be available at the Olguin Campus for all San Pedro High School students," said Sandy Martin-Alvarenga, coordinator for both magnets. "Marine Science Magnet students will benefit in many ways, one in particular is the proximity to the Marine Mammal Care Center and the Oiled Bird Center. This will allow our students the opportunity to see the practical application of their studies."
Police officer Cynthia Deinstein, who oversees the police academy magnet, considers the move for her students a godsend – especially because the new campus will have an obstacle course and a pool. Her students, she said, had to compete without the use of such a course against the other LAUSD magnets that had them. San Pedro high did not.
"Like everyone else, I'm very excited," Deinstein said. "I'm optimistic. We'll have a pool and an obstacle course and we've never had that opportunity before. When competing, we didn't have that luxury."
There are also a few perks for the public. For the first time, the San Pedro High swim team will have a school pool to work out in. Under an agreement between LAUSD and the city of Los Angeles, the pool will be opened to the public and be run by city's aquatic department.
Harbor College is also expected to hold night classes at the site.
The new campus is also hemmed in by numerous educational facilities that can help students academically. Those include the mammal care center, the International Bird Rescue, the Fort MacArthur Museum along with the Angel's Gate Cultural Center, which houses many local artists who teach.
Diana Chapman is a CityWatch contributor and has been a writer/journalist for nearly thirty years. She has written for magazines, newspapers and the best-seller series, Chicken Soup for the Soul. You can reach her at: hartchap@cox.net or her website: theunderdogforkids.blogspot.com) –cw
SP TODAY FEB 2011
by JOHN MAVAR
The passing of community leader John Olguin has been a huge loss but his legacy will live on stronger and brighter than ever. During the month of January 2011, the community gathered in the thousands express how they were touched by an individual with a love and passion for his community and the people within it. From teaching children about the ocean to advocating and spearheading wonderful community projects, John Olguin's legacy will live on, with the naming of the new High School Annex at Fort MacArthur which I would propose we name the John Olguin San Pedro High School Learning Annex.
John Olguin was born Feb. 18, 1921, and worked for the City of Los Angeles Department of Recreation and Parks for 50 years. His passion for marine life and the community started early in his life. Raising money for countless community events and organizations by going office to office, home to home, and even walking around dressed as a firecracker, he brought attention to worthy causes.
Mr. Olguin is best known for his ability to teach kids and the community about the ocean. Getting the people to learn and be excited about our local marine life was the foundation of the Cabrillo Marine Aquarium. Teaching kids about the ocean on land was just one part. Whale watching became a thriving industry along our coast well after Mr. Olguin would take boats out into the channel for a dramatic display of the world's largest mammals.
My personal experiences working on community projects with Mr. Olguin became an even stronger drive for me to enhance our local surroundings. He mentored me to stay active and follow through on my dreams. His work has changed our community for the better. He always remained the most humble community leader I have ever met.
San Pedro High School will always be San Pedro High School. However, with the need to relieve overcrowding in Los Angeles Unified School District schools, voters approved a measure that would bring San Pedro's newest education center on property at Fort MacArthur. It will serve the community by providing additional overflow for San Pedro High School. San Pedro High School was built for 2000 students and currently has approximately 3300 students.
This state of the art school will have two small schools or "learning communities" that will include science labs. The focus on the marine magnet program will help enhance San Pedro High School's ability to teach more students about marine life and set a direction for future careers. The school will also include performing arts classrooms, a library, multi-purpose room, gymnasium, food service and lunch shelter, indoor dining room, administration support services, play-fields, a pool, and surface parking.
With the loss of a community leader that spent his whole life teaching children about the marine life, it only seems natural to honor his legacy, by naming the Annex after Mr. Olguin. For the generations that have been taught by Mr. Olguin, this is a fitting way to remember a man with an incomparable love for his community and the sea. Most importantly, this learning Annex provides a place for future generations to learn and expand their minds as John Olguin always taught us.
Respectfully Submitted,
John M. Mavar
Northwest San Pedro Neighborhood Council, ILWU member
TIME FOR A CHANGE FOR ME. But i am not going anywhere.
Hello Family, Friends and community neighbors,
It brings me great sadness to announce my resignation as board member of the Northwest San Pedro Neighborhood Council effective July 9, 2012.
My time as a board member has been rewarding and exciting. Working with each board member has been a pleasure. As a team, we have made bold community imp
rovement projects come to fruition. Just recently we reached out to young adults by providing resources so that they are prepared to find a job or career.

I am focusing on some current and new community improvement projects that you will be excited about. In a few months you will hear more about these projects. My longshoreman/dock worker, public relations/marketing, video production and others careers of interests will be my focal point.

We all have made a difference for our community by improving the quality of life. But the community work is far from complete. As I step down as a board member my commitment to the community and participation will continue. I will be available to help and assist this council because I believe in the neighborhood council process.

Once again, thank you for allowing me to serve as a board member and I look forward to keeping our community moving in the right direction. STAY IN TOUCH!

Sincerely,

JOHN M. MAVAR
Harbor Area Councilman Joe Buscaino's leadership, "hits the ground running!"
May 20, 2012
As a long standing community leader in the Harbor Area for 15 years, working on issues to improve our quality of life has always been my dedicated passion. Our communities will always have issues and improvement projects. But, understanding and knowing how to solve those issues as a leader is critical for the success of our communities. Our area has continued to improve because of the leadership, knowledge and commitment of newly elected Councilman, Joe Buscaino.
Quality of life issues are never worked on by one person. I worked closely with former Councilwoman Janice Hahn, her dedicated council staff and other city departments to create a partnership when getting through the bureaucracy of the City of Los Angeles.
The term "Hit the ground running" is an understatement when it comes to our new Councilman Buscaino. His attention to detail and fresh approach to solving issues around the 15th council district is lightning speed. In 100 days, Councilman Buscaino has introduced 27 motions to improve our quality of life. From basic city services to budgetary fiscal obstacles, he and his staff have not missed a beat.
From Watts to San Pedro we have seen this council office focus on issues that matter to us. Skaters that "bomb" our local streets is a common occurrence . But safety is more important to the councilman. He introduced a motion to the Los Angeles City Council requiring that skateboarders under 18 years of age wear a helmet. This motion will also require skateboarders to follow the same rules of the road that bicyclists follow.
After deadly violence, Wilmington residents, business owners and community activists joined together for the first annual "i HEART Wilmington" event. Councilman Buscaino participated in order to celebrate the community and take the streets from criminals with a real reduction in crime. Clean up and community outreach in Watts and dedicating time with Harbor City and Harbor Gateway, Councilman Buscaino is working toward job creation and building strong communities.
As a neighborhood council leader, I would like to say thank you to the Councilman and his staff. From fixing the roadway on Capitol Drive in San Pedro to being accessible and responsive to our needs.
We as a community are in good hands with Councilman Joe Buscaino. But we must continue to work with our Councilman and his staff. He is not a mind reader or miracle worker.
Get involved and know whats is happening in your community.
See you around the Harbor Area!
JOHN M. MAVAR
Community Advocate Social Guru
johnmavar.blogspot.com/
johnmmavar@gmail.com
Councilman Joe Buscaino's information,
Harbor District Office 638 S. Beacon Street, Suite 552San Pedro, CA 90731, Phone: (310)-732-4515
Northwest San Pedro Neighborhood Council 310-732-4522 nwsanpedro.org
----------------------------------------------------------------------------------------------------------------------------
An Interview With Longshoreman John Mavar
Posted by eliza gale on April 9, 2012
John Mavar Is a Longshoreman, also known as a dock worker
in the Ports of Los Angeles and Long Beach.
1. How did you become a Longshoreman?
To be honest, I never thought i would be working on the waterfront. My life career choices and education was in politics and business management.
Growing up in the Harbor Area, many family members worked in maritime industries. From commercial fishing to dock workers, my ex poser to those professions was ample.
For almost 100 years, Job placement or requirement for waterfront jobs were given to family members or you really needed to know someone to get in. After years of rules and regulations were put into place to let the public apply for these jobs, now woman and minorities were given a fair opportunity.
The shipping industry and the union saw the need to fill thousands of jobs , A lottery was held in 1997 the, and as expected thousands traveled to employment agencies to get the application. Most of the public heard about this opportunity so two of my friends and me waited in line all night to be there when the doors open at 8 am.
2. What do you like about your job?
Working on the waterfront is humbling. The history of the long shore union, work ethic and dedication by fellow longshoreman is a strong bond.
I like that there is a strong union looking out for my job. Job security is the most important for me. We make a fair wage with insurance along with other benefits. But please understand, we move high volume of cargo, in dangerous and unhealthy conditions.
3. What don't you like about it?
Dock work is extremely dangerous because of large and heavy moving cargo from every direction. We are exposures to harmful and hazards materials that can and have posed long tern illness.
4. What has been your most memorable experience at work?
After the terrorist attacks on September 11 2001, port security was enhanced to check all containers with radiation detectors. Every container is exiting the harbor will drive through a portal we sensors strong enough to read and see thru the container. So one shift our crew worked a normal moving containers to the trains for loading. When so the sensors the pick up something a Customs boarder protection makes a closer check of the container with sensors that can pin point for further inspections which mean opening a sealed containers.
One gentleman, was going through the radiation detectors and the alarms kept sounding. It turns out he finished his last radiation cancer treatment that week. Memorable moment for sure but we also know how good these sensors work to protect our homeland.
5. A Longshoremen was recently crushed while working at the Port Of Long Beach: how common are such accidents?
"An injury to one is an injury to all!" Our union and the shipping companies invest time and money to train and retrain the work force on the dangers. Accidents do occur that include back problems, injuries from material that has dropped or even slip and falls. The tragic death of a seasoned boss years of experience was a rare type of accident. This has happen numerous time in past decades. But with continuous safety training class and working with the mentality of "safety 1st" has help reduce deaths on the waterfront.
6. Do you feel that the mainstream media has given port related issues enough attention?
Local news publications do a good job reporting on port operations and activities. When it comes to our Southern Californian news, TV stations and publications, it has to be a major story or disaster to have any coverage. Our twin ports, Long Beach and Los Angeles have made real improvements on how to move cargo with out hurting our environment and local communities.
Below are award winning and proven success with these programs:
Clean air action policy (reduction of use of old equipment by truckers)
Pier pass (allows for a discount to trucking companies to pick up loads after 6 PM)
Waterfront redevelopment (1.2 billion has be set aside to improve shopping , recreation and infrastructure without any tax payers expense)
7. What is the most common misconception people have about Longshoremen?
Waterfront misconceptions will be phases out like the policies
and procedures that have made our industry smarter and safer. Sure people say "we are over paid." Also said that "longshore workers are into drugs and alcohol" making the job site unsafe.
As I have indicated about our fair wage structure and job safety our union test the workers for drugs and alcohol . The union and employers pay for any longshore worker rehabilitation if they need it.
8. If they made a movie about Longshoremen who would play you and why?
Its time for a waterfront/longshore movie to be made for our generation. "On the Waterfront" staring marlin Brando is a great movie because it depicts the era. We have such a great story to tell now because our the diverse work force, the innovated changes on how cargo is moved to the type of cargo we move that keeps our local, regional and national economy robust.
Who would play me Ryan Reynolds,,,,,,,I feel we both have sense of humor and logic to make the best time out of work.
9. How does a Casual Longshoreman get into the union?
I spent 4 1/2 years as Casual and collected about 4000 hours. The hours worked can vary based on the need to elevate because of retiring longshore workers to how much work is being forecasted. My Causal experience was very hard but laid the ground work on understanding all jobs on the waterfront. The more skills you know, the safer the job will be.
10. What would you say to someone who says Longshoremen make too much money for what they do.
Anyone who expresses that our wages are too high, I would love to bring them down to the waterfront to see, hear and feel the job.
It is all in a days work. Unload and Loading ships, operating heavy machines, moving containers and other cargo around the harbor. Data entry of port inventory with large scale computer systems. Performing a safe work environment. Obtained a certified federal background check for the Transportation Worker Identification Card also known as TWIC , brought a leave of security so that we are all looking out for each other and communities.
Please note; Eliza's interviews are done by email. All answers are unedited and come right from the lovely fingertips of her subjects:)
http://curvewire.com/posts/blog/interview-longshoreman-john-mavar
__________________________________________________________________________________
SKATE OR DIE OR SKATE AND DIE
As you drive through San Pedro and surrounding neighborhoods you may have encountered skateboarders racing down our streets and blocking traffic. Such incidences have been increasing which is angering drivers and worrying residents. Unfortunately while the dare devil skaters continue to dart in and out of traffic, an accident occurred resulting in the death of a young skater. Could this accident have been prevented? Now more than ever, we need to rally, as a community, to prevent future accidents and deaths.
On November 10, 2O11 there was an untimely death of a community member that was active in AYSO and music. Micheal Borojevich was only 14! He and his friends were skateboarding around Western Avenue and 25th Street when the accident occurred. The San Pedro High School freshman was passionate to skate, like every other skateboard enthusiast. But with his passing, the issue of unsafe skateboarding has grabbed the attention of community leaders and law enforcement. A strong focus to protect, educate and warn the skaters on the real dangers, will need to come from the skaters, as well.
Skateboarding should not be demonized. The sport is about learning as many tricks as you can and testing your limits. As a former skateboarder, I took many risks. But the level of intensity with our youth has increased with skaters darting in and out of traffic and even assaulting motorists' calls of frustration. Many emails and telephone calls have come my way about this issue. Our neighborhood council has been working with the Los Angeles Police Department and the Los Angeles City Council office to find solutions. As you can imagine other crimes and public safety concerns take precedence.
I have been working with officials in the City of Los Angeles to bring a skate park to Peck Park. The Northwest San Pedro Neighborhood Council and San Pedro Skateboards Association have worked closely to make sure we provide another place for skaters. Full funding to build the skate park is in place and the skate park is in the planning stages. Building this new skate park is only a small step toward providing a safe skating environment. Our Neighborhood Council will continue to work with skaters, the LAPD and city officials to keep our streets safe.
If you would like to participate on this issue or other community issues, feel free to contact me or the Northwest San Pedro Neighborhood Council.
nwsanpedro.org
or
johnmmavar@gmail.com